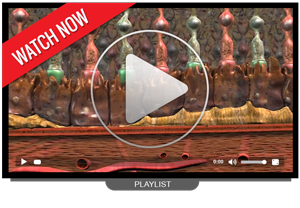 Macular degeneration is a disease which affects a small area of the retina known as the macula. The macula is a specialized spot on the retina that allows us to see the fine detail of whatever is directly in front of us. Macular degeneration occurs when the macula begins to deteriorate.
"Wet" vs. "Dry"
Most often, macular degeneration is accompanied by formation of yellow deposits, called "drusen," under the macula, which dry out or thin the macula. This is called "dry" macular degeneration. In other cases, abnormal blood vessels develop under the macula and leak fluid. This is called "wet" macular degeneration.
Causes
A number of uncontrollable factors contribute to macular degeneration, including age, sex, eye color, farsightedness, and race. Risk factors you can control include smoking, high blood pressure, exposure to harmful sunlight, and diet.
Symptoms
It is difficult to detect dry macular degeneration in its early stages. The most common symptoms, when detected, include a spot of blurry vision, dark vision, or distorted vision. Wet macular degeneration progresses much faster than the dry variety. Both forms of macular degeneration can cause blindness.
Treatment
There are several studies, including the AREDS trial, which support the role of antioxidants to slow the effects of dry macular degeneration, and reduce the transition to wet macular degeneration. In the setting of wet macular degeneration, the use of anti-vascular growth factors (medication injections into the eye) has dramatically improved the prognosis of this condition. Additionally, patient self-monitoring for new vision changes with Amsler grids, and routine complete eye examinations remain very important.